Brumcon 07.5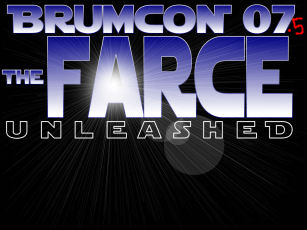 BRUMCON 07.5 THIS SATURDAY MAY 3rd 2008
Menzies Strathallan
225 Hagley Road, Edgbaston
Birmingham. B16 9RY

Doors open 11am Talks from 12pm
FoxWhisper - The age old question ?
The psychology and mentality behind hacking. And possibly the first real answer to "What is hacking". This is not for the faint hearted! Ensure to come with a pen, notepad, and a VERY open mind :) [Last time I spoke to Fox he was on the phone to nasa... something to do with a namesever I think.. Re-LoaD]
1stvamp - CAN HAS LOGIN?
Insecurities in Web Authentication, Authorisation and OpenID
Basics of HTTP Auth, Digest, Forms and SSL use
Common mistakes and exploits - SQL injection, using exposed secrets, forgotten password scripts, blacklist ACLs, giving Ajax/client mechanisms too much control over the login process, hijacking and harvesting sessions
Access Control - fine grains and high yields
Encryption - not enough if the app logic is weak, protect whats important and don't reinvent the wheel
OpenID - what it solves, what t doesn't, misuse and exploits
Extending OpenID - JavaScript/Ajax client with client-side hashing (requires extension to protocol)
Les Hutchins - A live performance
Algorithmic music with SuperCollider
mc.fly - Cryptspeed 'how fast is crypto'
Crypto is everywhere today - and crypto uses a lot of cpu time. Therefore we analyzed crypto on base of algorythm, key length, CPU type, 32/64 Bit, programming language and block modes.
Just 'Richard' - X across the Net
LTSP and other thin client solutions use the separation of client and server on the X Window system to allow low powered clients to share more powerful server. This talk will cover the deployment of LTSP, the technology behind it and the security aspects of the system
jens mücke - Git 'manage your code distrubuted'
Git is a toolset to manage content like source code. It was developed from people like Linus Torvalds for projects like Linus kernel in a very short time.
Open Mic - A panel with your speakers including 'ccc' discussion.
Hack the Flag - Some OS on Some Machine for you to totaly 0wn...
Brum2600.net
Welcome to Brum2600.net Brum2600 is a forum for free and uncensored information exchange. If you are interested in technology, and events in the technology world. Meetings are open to anyone of any age or level of expertise. Next Meeting is May 3rd 2008 After BRUMCON !!

+++++++++++++++++++++++++++ BRUMCON 07.5
BRUMCON planned for Oct 07 is ON THIS MAY 3rd 2008

3rd May 2008 Thistle Birmingham Edgbaston
225 Hagley Road, Edgbaston
Birmingham. B16 9RY
Call For Speakers
If you're interested in speaking at BrumCon 08 then please contact us at
brumcon7@brum2600.net
with details of your proposed talk. The length of the talk will depend on the number of speakers, but generally should be between 30-60 minutes. If you feel that you need more than an hour, talk to us and we'll arrange something for you :) Topics of particular interest:
Hacking/Security related talks
Phreaking/Telephony related talks
Wireless (Bluetooth, GSM, 802.11, Radio, Satellite) communications
Cool stuff Entry from 11am Talks Start 12 noon. BrumCon is a regular (was semi regular) event organised by Brum2600 regulars, featuring a wide variety of talks, discussion, demos and most importantly, alcohol. Incorrectly but neatly dubbed a 'blackhat thinktank' by NTK, The Register - 'We have your water supply, and printers', BBC Midlands Today - 'Spooky', By you lot as the UK's biggest underground Hacker con and by hotel staff as .scary but nice people..
We welcome all kinds of phreaks, geeks and other technologically interested people from all sides of the fence (as long as hats, badges and warrants are left at the door).
The entrance fee this year again yes again stays at 5 UK Pounds per delegate (we do it for the love). Corporate packs are available that includes entrance, T-shirt and receipt contact us at
brumcon7@brum2600.net
to book. Travel :-
Bus instructions
Go to the row of bus stops outside of Snow Hill Station. The stops are all well labeled.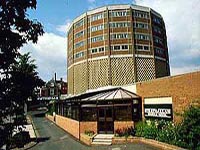 The buses available to the hotel are the 9,139 running about every 3 mins. Ticket cost will about £1.40. A taxi should cost about £6.50. The journey will take about 5-10 mins depending on traffic, the hotel is on the right hand side and has a distinctive look.
For those driving there is a car park on site.
The hotel is not far from Snowhill or New Street Station.
Interactive Map
Road
From A38 follow signs for the International Convention Centre (ICC), Broad Street. On Broad Street continue towards Five Ways Island. Take the underpass which leads onto Hagley Road. Thistle Birmingham Edgbaston is situated 1 mile on the right. There are 200 car parking spaces available.
Rail
Birmingham New Street Railway Station is 2.5 miles from Thistle Birmingham Edgbaston. Taxis are available at the station.
Air
Birmingham International Airport is 12 miles from the hotel. --
Re-LoaD