BRUMCON 9
Stroke Of Darkness
Menzies Strathallan Hotel
225 Hagley Road, Edgbaston
Birmingham. B16 9RY

Need a map --> click
5th December 2009
11:30 am Doors Open
12:00-12:15 Intro to Brumcon 09 - Re-LoaD
12:15-12:45
BIG Ron | Technology Trap.
12:45-13:15
hellocatfood | Intro to Birmingham hackerspace "fizzPOP"
13:15-14:00 Lunch
14:00-15:00
1stvamp | "Friend me! - Data-mining the social web" Various techniques to tap information from social network sites and services' APIs, such as Twitter, Facebook, Bebo, Friendfeed, Delicious, MySpace, etc.
15:00-15:20 Break 20mins
15:20-16:00
Tom Chothia | "Hacking and Tracking e-Passports" - recent research has shown it is possible to trace an e-Passport by replaying messages to it.
16:00-17:00
Jens Muecke | SQL Injection - All web portals and web shops use databases to store accounts, offers and other content in the backend. SQL Injection is a technique to attack this backend.
17:00-17:20 Break 20mins
17:20-18:20
Mark Ryan | Hardware-anchored security,particularly the current-day manifestations (Trusted Computing Group's TPM, Intel's TXT).
18:20-1900
FoxWhisper | Down fall of social networking ? Full Disclosure on; security flaws in iMeem, Plenty of fish, Live Journal and others. Theoretical demonstration of extracting emails from some of the worlds biggest web sites. Plus disclosure of troubles at 8arclay Card.. (Again !)
19:00-Late
H4x0r (sorry ?Ex? H4x0r) Panel: Open discussion with your speakers, more on hackerspaces, 2010, Workshops, Demos and DRINKING !
+++++++++++++++++++++++++++++++++++++++++++++++
Call For Speakers
If you're interested in speaking at BrumCon 9 then please contact us at brumcon9@brum2600.net with details of your proposed talk. The length of the talk will depend on the number of speakers, but generally should be between 30-60 minutes. If you feel that you need more than an hour, talk to us and we'll arrange something for you :)
Topics of particular interest:
Hacking/Security related talks
Phreaking/Telephony related talks
Wireless (Bluetooth, GSM, 802.n, Radio, Satellite) communications
Social engineering / experimentation
Cool stuff
Entry from 11am Talks Start 12 noon.
About Brumcon
BrumCon is a regular event organised by Brum2600 regulars, featuring a wide variety of talks, discussion, demos and most importantly, alcohol. Incorrectly but neatly dubbed a 'blackhat thinktank' by NTK, The Register - 'We have your water supply, and printers', BBC Midlands Today - 'Spooky', By you lot as the UK's biggest underground Hacker con, By hotel staff as 'scary' but nice people and I'm scared I'd get my ass so electronically kicked.
We welcome all kinds of phreaks, geeks and other technologically interested people from all sides of the fence (as long as hats, badges and warrants are left at the door).
The entrance fee this year is 8 UK Pounds per delegate. Corporate packs are available that includes entrance, T-shirt and receipt contact us at brumcon9@brum2600.net to book.
Travel :-
Bus instructions
Go to the row of bus stops outside of Snow Hill Station. The stops are all well labeled.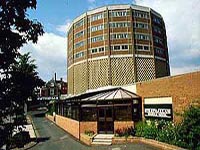 The buses available to the hotel are the 9,99,138,139 running about every 3 mins. Ticket cost will be about £1.70. A taxi should cost about £6.50.
The journey will take about 5-10 mins depending on traffic, the hotel is on the right hand side and has a distinctive look.

For those driving there is a car park on site.
The hotel is not far from Snowhill or New Street Station.

Road
From A38 follow signs for the International Convention Centre (ICC), Broad Street. On Broad Street continue towards Five Ways Island. Take the underpass which leads onto Hagley Road. Menzies Strathallan Hotel is situated 1 mile on the right. There are 200 car parking spaces available.
Rail
Birmingham New Street Railway Station is 2.5 miles from Menzies Strathallan Hotel. Taxis are available at the station.
Air
Birmingham International Airport is 12 miles from the hotel.
--
Re-LoaD